Lately, handcrafted jewelry is gradually gaining the acceptance of women because of their low cost, the flashy colors and the wide variety of designs and materials. Handmade jewelry now can found everywhere, at big shopping malls, smaller shops selling jewelry, in outdoor exposure, even from itinerant sellers.
The ease of their construction in conjunction with the cheap materials available in the market, have led many people to be occupied with it, and many of them manage to earn enough money per month through 'Door to Door' sales or via internet.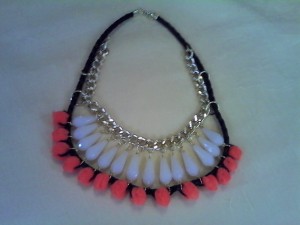 What materials do we use to make handmade jewelry?
Some of the materials that we can use to make handmade jewelry are cotton yarn in various colors such as black, gray, blue, bright green, fuchsia, orange, gold etc., combined with silver plated or gold plated chains, and various stones, either from crystals in different colors, or even made of bone or wood.
Instead of knitted jewelry, you can make rings, bracelets, necklaces and gluttonies of arzanto wire, or gold-plated, combined with semiprecious stones or simple stones. Finally you can make jewelry of different metals, perforated or forged, gold- or silver-plated or even made of wax in a wide variety of designs.
How is the jewelry combined and what should you wear in any season?
The jewelry can be combined with all the clothes according to the specific circumstances. The casual and sporty jewelry is suitable for our daily activities such as our work, coffee time, shopping or walk with friends. The fancier can be worn with formal clothes for an evening stroll, at celebrations, weddings and circumstances requiring better outfit. It should not however be considered that a handmade jewelry is handy. The wide variety of materials and design classify them equally to greater value jewelry.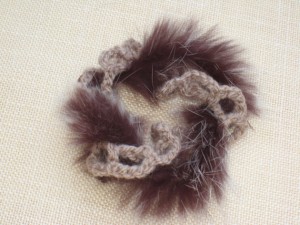 In winter there are commonly used 100% acrylic yarn, synthetic (50% wool and 50% acrylic) in different colors, and we can create long necklaces with several rows of elements or stones, short necklaces to stress the neck, thick or thin bracelets, earrings in various designs, and brooches which fit well with the coats, the sweaters and scarves since most of them are knitted.
In the summer we use cotton yarn in various light colors, suitable for not to chafe or tweak. They all are easy to wear and they are worn by all ages, whether they are short or long necklaces.
How can we maintain handmade jewelry?
For the manufacture of handmade jewelry, many different and unique materials are used, so each one individually needs proper care so as not to lose their shine for a long time.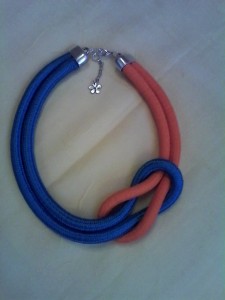 • We should keep the jewelry to a box or in a cloth pouch if any, to avoid contact with each other so as to avoid scratches.
• We should first put our perfume and then the jewel so as it does not fade or marks our skin.
• We should not keep the pearls enclosed in boxes. We should rather wipe them frequently with a soft cloth in order not to lose their gloss.
• If we are getting prepared to go somewhere, we should wear the jewelry just before we go out and not during our preparation, to avoid any reaction with chemicals such as perfumes.
• We should not wear them when we are sleeping because in spite of the fact it can be dangerous for us, we could also damage the jewelry itself.
• Jewelry should be cleaned with dishwashing liquid, baking soda and special cleaning fluid, but the above should be used in small quantities and carefully.
These are a few words about the magical and addictive world of handmade jewelry. The collection is large, the colors are impressive, and the designs are numerous. You should always keep in mind before purchasing a handmade jewelry that you should touch it or if you purchase through internet, to find out who the seller is, because you will find many people that sell impressive but low quality jewelry.
---
About the author

Fofis Handmade Shop
I have a great variety of handmade Jewelry products making of yarn, stones, candle, beads, pearls, rhinestone, jewelry! All my products shipped worldwide and delivered about 1-2 weeks.
Check the full list of handmade products:



---