For the Marvel fan that has almost everything, Beast Kingdom will offer life-size sculpts of the Hulkbuster from Marvel's Avengers: Age of Ultron. So, if you are a big fan of the Marvel's Avengers : Age of Ultron movie you can buy a 'little' piece of Stark's precious heritage. The life size Hulkbuster Statue is ready to be adopted to protect you and your belovings. It is certain that it will dominate your toy room.
The Statue Hulkbuster is just one of a handful of movie-themed pieces being manufactured by Beast Kingdom, but it's definitely the biggest. This 9′ 10″ majestic statue of Hulkbuster The statue features fiberglass construction and automotive paint to perfectly represent the Iron Man armor. It weighs 660 kg to withstand Hulk's excessive power. Every intricate part seen in the movie is manufactured in great detail by hand and the design shows off the highly detailed mechanical construction. is the authentic one, straight from Stark's projects.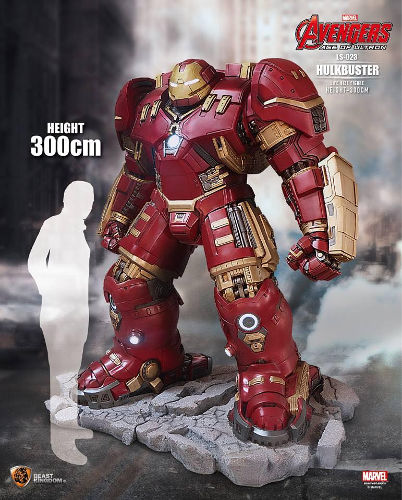 The Beast Kingdom Hulkbuster Statue has 18 LED light-up points which make it looks more than just fancy. With the ability to light up in eighteen areas, like eyes, arc reactor, palms, vernier thruster, knee and gives you the impression that he is ready to fire. Also, Every Hulkbuster life-sized statue Affixed onto a gray stone platform, and it features a realistic movie scenery base that shows the unstoppable strength.
For the price of just $21,500, life-sized replica of Tony Stark's Hulkbuster armor can be yours thanks to Beast Kingdom. It's one of the most talked about merchandise from the film as this is surely going to be a true collector's item.