As we read on www.engadget.com InFocus new Kangaroo PC gives you a battery-powered Windows 10 desktop that's about as small as a smartphone and you can pull it out of your pocket, connect peripherals and start working for up to four hours.
InFocus isn't a widely-known electronics brand, but the company has been around for 30 years, and specializes in projectors and extra-large touchscreen PCs for office environments. The Kangaroo looks to be InFocus' first big consumer play.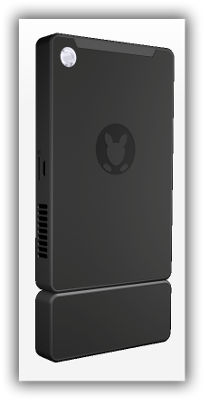 You can even connect the Kangaroo PC to an iPad if you're bent on a completely portable setup. Also, InFocus takes a clever approach to expansion: there's an included dock with HDMI, two USB ports (2.0 , 3.0), a charging port and there are promises of more add-ons in the future.
Kangaroo offers the power of a cheap full-sized computer with the convenience and mobility of a cell phone. The black satin aluminum device is powered by an Intel Cherrytrail (Z8500) SOC, 2GB of RAM, 32GB of storage (expandable via a microSD card), and an on-board battery.
You can order one today from Newegg for $99. That's cheaper than some of its stick-based rivals, and it's arguably a better value overall if you're looking for a full-fledged computer.