Vintage style and PC accessories aren't all that common since computers became publicly available a relatively short while ago.
Unlike typewriters, one cannot simply go into an antiques shop and hope to find a model from the early 1900's. They just didn't exist back then. Which, to those of us who find ourselves fascinated by old fashioned or steampunk-styled items, can seem a bit disappointing.
Well, this is what the vintage Sojourner Keyboard from Datamancer is here to solve.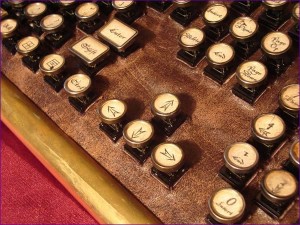 As the hardware producer's motto reads, Datamancer wants their products to become "modern heirlooms with classic style". With that in mind, their Sojourner keyboard delivers on that motto with an outstanding piece that looks like it's been passed down for several generations.
For any uncompromising fans of steampunk who aren't too concerned about their budget, this particular keyboard might look like an accessory taken from one of their most exciting dreams.
And does it look at all familiar? If it does, you probably recognized it from the SyFy Channel's "Warehouse 13". That's right. This is the exact model that Artie has sitting on his desk in the show, and you can have one of your own!
One thing worth noting about Datamancer's crafting mantra is that their goal is to do more than create items that just look like they have antique value. Their close attention to detail and quality makes their products valuable right from the start.
And they may be new now, but unlike the majority of hardware built and sold today, this one's designed to stand the test of time.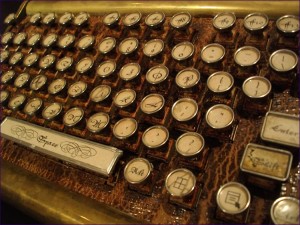 All keyboards produced by Datamancer boast an uncompromising touch in regard to quality. The products are built using industrial-spec mechanical switches which serve to ensure the durability of your Sojourner keyboard.
Each of their products has its own designated theme which they appeal to very well. This one in particular is meant to look like something that's traveled the world inside the backpack of an intrepid explorer.
The aged look is given away by the polished brass material used to craft the product, which was artificially tarnished before assembly.
The faceplate is made from aged leather and the key inserts from parchment.
From a practicality standpoint, touch typists will appreciate having the F an J keys purposefully cracked, marking them as locator key. Most keyboards use a small plastic nub on the same keys for the same reason.
Aside from it uniquely stunning visual appeal and a construction that will stand the test of time, there is one thing that may stop potential buyers from hitting the purchase button. The price.
Valued at a considerable $1,000 USD, it is certainly not among the most accessible of keyboards out there. This product was made for a rather exclusive audience, but this also means that you won't see a lot of people owning one.
If your goal is to have your PC stand out to everyone who sees it, as well as delight you whenever you'll need to write someone an email, this keyboard is just the thing.
Its unique look and exclusive nature is sure to turn heads and strike interest in everyone who comes over and sees it.