Here are some of the most inventive, outrageous and fun water toys to have made a splash in the world of the luxury sailing.
1. Twin Seat Jetpack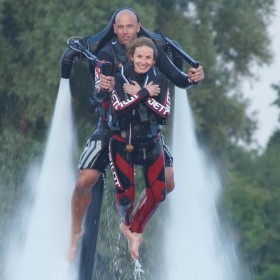 Now you can experience the feeling of flight on the new twin seat jetpack that is leading the way in futuristic watersports. A perfect addition to a Water theme park. This special jetpack allows the pilot to take a passenger with him. Also, it s ideal for family, rental and training issues. In optimal conditions, the Jetlev-Flyer is capable of flying 10mtr high, and reaching speeds of 50mph. The twin seat jetpqack has reinforced static structure to carry higher weight and complete carbon fibre made backrest. It has a special 5-point-safety-harness system for two persons and adjustable arms and seats. Combining personal flight with a high adrenaline watersport, this exciting new activity makes elation both a mental and physical reality as you experience freedom of movement in the air.
2. Quadrofoil – Electric Hydrofoiling Watercraft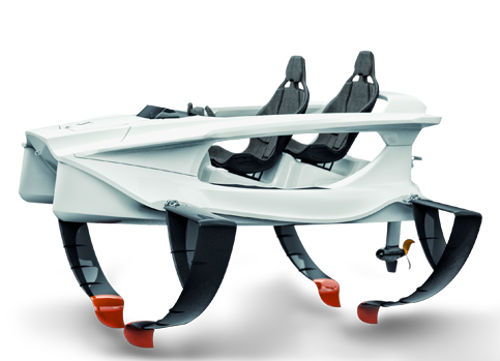 The high-flying Quadrofoil hydrofoil is ready for wave riding. The Quadrofoil is an electric hydrofoiling watercraft that produces marginal noise pollution, zero emissions, and creates only the tiniest of waves. Available in two models Q2S and Q2A, both of them are capable of carrying two adults. The Quadrofoil, without foils attached, takes up 1.5 m (5 ft) from side to side, while standing 1.2 m tall (4 ft) and measuring just under 3 m (10 ft) in length. The Quadrofoil is made of composite materials and weighing in at only 100 kg (220 lb), the craft is relatively light. Using C-foil technology, the Quadrofoil's specially-shaped water wings provide the necessary lift forces to get the craft out of the water at only 12 km/h and the designers have developed a new anti-collision system to absorb forces in the event of an accident. It can fully charged in 2 hours.
3. Lampuga Electric Power Surfboard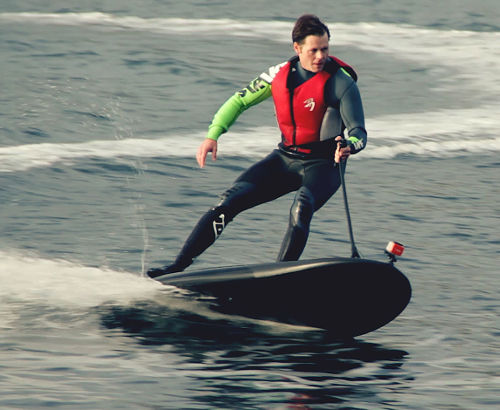 The Lampuga Electric Power Surfboard is the world's fastest electric surfboard, it speeds up to 34 mph (55 km/h). It is an environmentally friendly surfboard with electric jet propulsion system which not disturbs animals or people. The Lampuga uses the familiar e-surfboard format of electric drive shooting water-spewing thrust out at the board's tail. The Lampuga Electric Power Surfboard has lightweight carbon-fibre composite construction and powerful full-electric jet drive enable it to reach high velocities. The rider controls the board via a hardwired twist throttle which provides more safety. The battery charges in two hours with the included 30-amp charging station or an hour with the available 60-amp version. The board is made from carbon fiber, with an anti-skid mat on the upper surface to keep the rider from falling off. If the rider lose control an automated emergency stop mechanism will shut off the power to the engine instantaneously.