The professional auto follow camera drone, Lily is a new gizmo that that uses GPS, computer vision and a tracking device to follow you and film your exploits, from mountain biking and skiing to just walking around. It's ultra portable, waterproof, and is designed to follow you using a compact tracking device you can wear or stash comfortably in your pocket.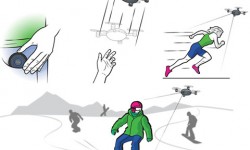 Lily has a durable design and 12-megapixel/1080p built-in camera, which enables features. Lily's body is sealed and its motors are insulated. Even if the landing is on a hard surface, all the impact gets absorbed on the outside and never hits the glass lens. Also, Lily is waterproof and also floats so you can safely land it in water and it will rise up out of the water and take to the air. This camera dron uses several technologies to track its owner, including GPS and a small wireless tracker the owner carries in a pocket. Lily tracks the tracking device and uses computer vision to optically follow your features. You should have the tracking device on you for Lily to follow you. It flies itself and follow you at speeds of up to 25 miles per hour at a height of 10 to 30 feet.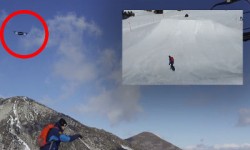 Lily uses computer-vision algorithms. After it's tossed in the air, Lily spends about 30 to 60 seconds studying you, to memorize what you look like. Lily watches you in order to keep up, using GPS only as a backup if the computer-vision system fails. It has a barometer and accelerometer so if you get airborne Lily will capture some photos. Furthermore, the tracking device has a microphone that records high quality sound. Lily automatically synchronizes audio from the tracking device with video it records. Lily streams low-resolution live video to the companion app to help you frame your shots. The drone contains three cameras, one camera to do the recording, one that's looking at the user to visually track them, and another camera looking at the ground to make sure it's stabilized.
The Lily drone lasts about 20 minutes in the air before you need to freshen up its batteries. It takes 2 hours for a full-charge. Lily begins taking pre-orders today at $599 and will start shipping in February 2016. Once the product launches, the price tag will increase to $999. Lily Cameras pre-ordered before June 15th, 2015 begin shipping in February 2016. Lily Cameras pre-ordered after June 15th, 2015 begin shipping in May 2016.