The Kodak PIXPRO SL10 Smart Lens Camera clip-on camera is an independent all-in-one 16MP cylindrical-shaped digital camera that attaches to both Android and IOS smartphones. It is a unique device that pairs the imaging capabilities of a dedicated digital camera with the intuitiveness and connectivity of a smartphone. The device resembles a lens and incorporates a 16.35MP 1/2.3″ BSI CMOS sensor to realize high-resolution shooting up to 6 fps (frames per second) and full HD video recording at 30 fps. The sensor's BSI design enables enhanced low-light performance and quality, with sensitivity to ISO 3200.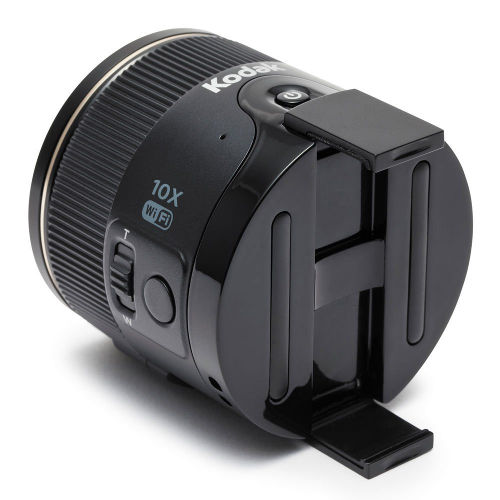 Two little ears clip the SL10 to the back of any smart phone that is just under a half-inch thick and three-inches wide. Its clip system is wide enough to accommodate most versions of the Samsung Galaxy and all versions of the Apple iPhone up to and including the iPhone 6.
In regard to the optics, the module incorporates a 10x zoom lens, which provides a 35mm-equivalent focal length range of 28-280mm, covering wide-angle to telephoto perspectives. It benefits working in a wide variety of shooting situations. Additionally, optical image stabilization helps to minimize the appearance of camera shake to better enable working in low-light conditions. Its variable aperture checks in with f-stops ranging from f3.2 at the 28mm side to 5.6 when the lens is fully extended to 280mm. In its closed position it measures two-inches tall by 2.25-inches across. Fully extended, it measures 3.75-inches tall.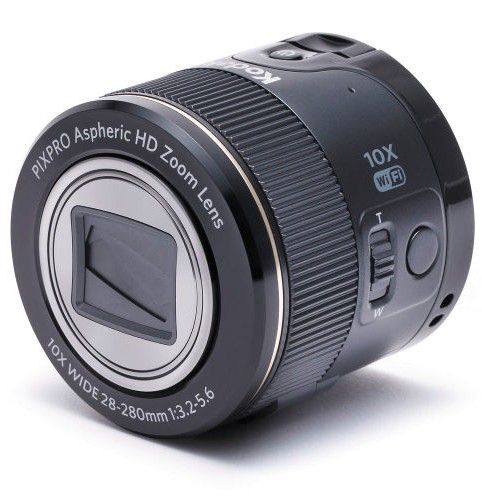 One of the most notable assets of the Kodak PIXPRO SL10 Smart Lens Camera is its unique form factor, which is designed to attach directly to a smart device for operation. The built-in Wi-Fi connectivity that it has permits linking Android and iOS devices to the SL10 for direct settings adjustment and live view monitoring via a free app. The module itself also features manual zoom control, a dedicated shutter release button, and a tripod mount for using away from the linked mobile device.
The camera doesn't have to be physically connected to the phone and can be used as a separate camera – with the screen of the smartphone for remote operation over Wi-Fi. You would most likely want to use it this way with the smartphone so that you can see what you are taking photos of, even though it can also be used without first being connected to the smartphone.
The Kodak PIXPRO SL10 Smart Lens Camera accepts microSDHC memory cards, up to 32GB, for saving imagery and utilizes a rechargeable lithium-ion battery, which is charged from within the unit, to provide approximately 200 shots per charge. The Kodak PixPro SL10 Smart Lens camera is better than most existing cameras that are built into smart phones.