The Jet Capsule is a compact water craft measuring 7.5 m (24.6 ft) long and 3.5 m (11.5ft) wide. The futuristic looking vessel can be customized to suit a myriad of purposes, including a water taxi, emergency water vehicle, patrol boat, scuba diving vessel or recreational cruiser.
The Jet Capsule is a mini-yacht that's just the thing for when you want to have a little fun with your friends away from the prying eyes of the servants. It looks like an escape pod launched as some ship was about to go down, but it's a small boat with all the luxuries the wealthy require.
The Jet Capsule is made with a fiberglass hull and features a hydro-jet system and can come equipped with one or two (petrol or diesel) engines, offering from 315 to 740 hp. On board, the craft features a protected deck and seating area which accommodates eight passengers.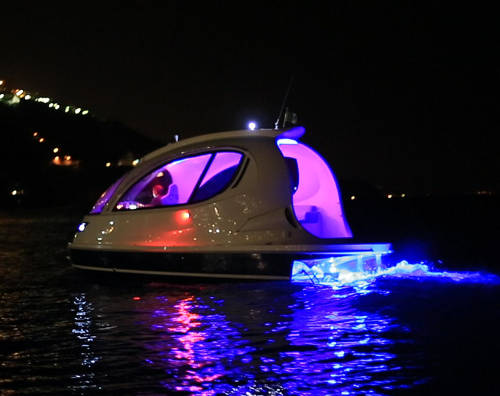 It's also fast with a jet propulsion system that can take it up to 57 MPH if you buy the most powerful model available. The cabin is 24-feet long so there's plenty of room for a few close friends. There are also lots of customization options to so you can make your Jet Capsule feel just like home. The Jet Capsule has all the comforts you'd expect of a high-end yacht. There's seating for eight, a diving platform, teak flooring, toilet, a bedroom conversion, and the ability to add a kitchen into the main compartment. Furthemore, at night the Jet Capsule lights up like some sci-fi version of a Christmas tree so you can cruise around looking for all the hottest parties and impress your friends when you pull up to the dock.
This kind of toy doesn't come cheap. The base model starts at a cool $250K with plenty of interior options and even different colors available so that you can make your Jet Capsule unique.
According to the designer, the Jet Capsule was created as "a boat small enough to be easily maneuvered, yet spacious enough to take a handful of friends out for drinks, over to a port for an evening's entertainment." So think of it more as a camper van for the seas rather than luxo-barge.