The Earth Cooler is an environment-friendly earth cooler that keeps beers cool all year round by keeping them underground. It keeps your drinks cold without a refrigerator, it just uses nothing but the natural lower temperature of the ground to cool your cans of drink.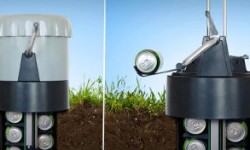 The Earth Cooler is a contained, insulated compartment that you bury in your yard. It holds 24 cans of beer and all you have to do is pop the top, turn the crank and out pops a new brew. The cooler works best for people who live in a cold country and although it may have been designed for beers, it can also be used for other canned drinks like soda and juice. Installing the eCool is as easy as digging a deep hole, lowering the cooler into it, and then packing soil around its sides. A garden drill would seem the most obvious tool to use, but a shovel will suffice.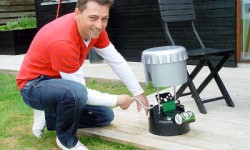 The Earth Cooler uses no electricity whatsoever, so it has a hand crank used to move the cans down one side of its central shaft and up the other side. You lift the top of the Earth Cooler to either load or remove a can. While underground the loaded cans will stay free from frost and other extreme temperatures.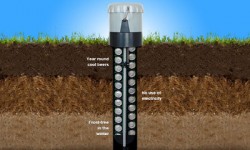 The Earth Cooler is 113 cm in height, 22-30 cm in diameter and weighs 12 kg. It holds 24 33cl. (12oz) cans and can stay installed the whole year. It's advised to use a garden drill, but can be installed with a shovel as well, if you're a real man. The earth cooler's top is very well insulated and maintains about the same cooled temperature throughout the whole container.
The Earth Cooler was developed and patented by four guys from Mors, which is an island in northern Denmark. The parts used for the Earth Cooler are produced and assembled by hand on Mors as well.