Bike helmets take up a lot of room in a bag, which is why we've already seen bike helmet that can be folded like an accordion, a taco, or an armadillo. Closca Design's Fuga helmet takes another approach, it telescopes down from the top.
Closca Fuga represents the balance between safety, functionality and style by transforming a safety element into a fashion accessory. Closca Design, thus stays committed to offering design and innovation in an ever-growing global market: the bicycle as a mean of transportation in our cities.
Closca Fuga is not only a safety certified helmet but also it has a unique & worldwide patented foldable system allowing to become flat and to reduce its volume by more than the 50% for easy storage in any bag while you are not pedalling. Push down on the center piece at the top, and the five-inch-tall helmet collapses into a flat disk 2.36 inches in height. This very smart helmet comprises 3 mobile rings hinged together with 2 stable positions, foldable only when it is empty and providing the same safety level as any regular helmet does.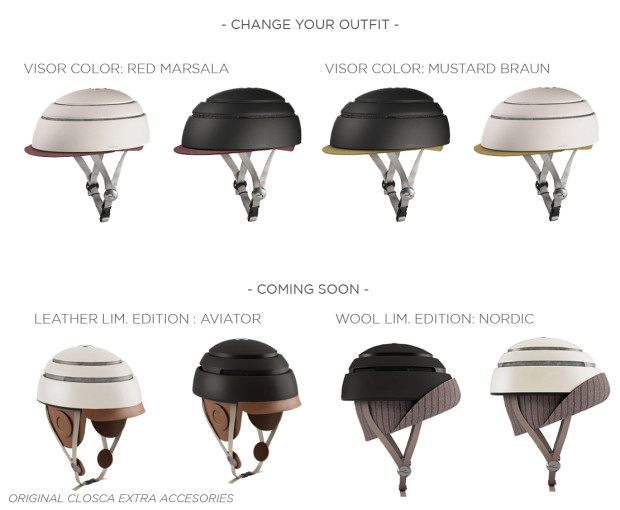 Closca offers an accurate assortment of materials and finishes, detached from usual standards for cyclist equipment and closer to product and fashion trends. It's another accessory of your own style. Closca Fuga is provided with an interchangeable accessories system so you can dress your helmet combining it with your everyday outfit. The helmet has kept an element of the original cap design, offering a subtle bill once again at the front of the helmet, useful for keeping the sun out of your eyes and it can be easily removed if it's not to your taste.
The helmet reportedly does meet safety standards for the US, Canada, Europe and Asia. As an added benefit, the spaces between the rings also act as cooling vents, allowing air to pass through as you're riding. The Fuga folding bicycle helmet is a huge step forward for Closca. It's a classy looking product that functions excellently.