Presentation about the prototype Drum Kit shows that manufacturer Yamaha is getting much success in the percussion world as it gets with motorcycles. Raijin drum kit prototype is a drum kit within a cage. It got is name from Shinto god of lighting, storm and thunder.
Design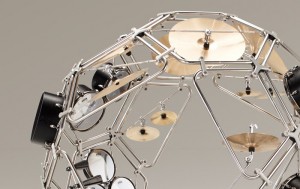 Raijin drum kit is spread out over inside of huge hamster ball that is created out of metal tubing. This marimba was designed to allow performance by two. The design allows performers to give their multiplied energy. Seating design of performers brings to mind another product of the Yamaha family, a two-seater motorcycle. The unique design allows performers to enjoy thrills of sudden swings and gaps when they play the instrument.
Raijin drum kit presents a breathtaking sight of the player doing some magic. A player stands inside and daces around when hitting the components that are well positioned within the frame. The components within the drum kit frame are snares, cymbals, toms, and cowbells. Raijin has 4 kick pedals on a platform at the bottom. These bass pedals are well placed so that a player does not miss bottom end regardless of the way are playing the drum set in order to hold a beat.
Strategically placed drums
The difference between Raijin drum kit prototype and other classic drums is that a drummer will be surrounded by strategically placed drums within a ball of metal tubes. It makes the work of a drummer to look even funnier thereby making the moment more enjoyable for the audience because it is not all about listening to the drum sounds but also watching the performance.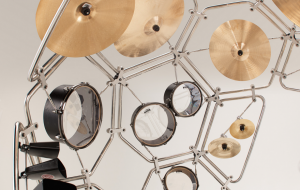 Designers of Raijin Drum kit managed to combine power of music with splendid work of art that makes anyone who watches to not only be amused but also travel to the future. The design of Raijin Drum kit has helped to create an ideal form for human beings who want to go beyond existing methods of self expression. According to designers, the drum set was made with a design resembling a globe because they wanted to allow performers to turn wild with their imaginations on assortment of various types of drums.
The energy erupts are centered on the then player creating a visually dynamic scene of sound.
Easy transporting
Like with other Yamaha electronic drums designed for the last number of years, Raijin drum kit is in rack which makes it easier to transport and setup the drums.
The whole project of designing and making the Raijin was called Ah A May. Everything was designed and implemented by Design Center of Yamaha Motors Company. The design is a quite unique. Designing of Raijin drum kit was around the same time when Yamaha Motor Co also came up with Fujin marimba another percussion drum set.
Although both have not been produced in quantity, Raijin kit lives up to the god of thunder whom is named for. It has taken emphasis for style over function a notch higher for both the performers and their audience.