Find all of the classic arcade games you love in one cabinet.
Get all your favorite games from the 1980's and 1990s all in the 60 Games In 1 Cocktail Arcade Table. All 60 Games in 1 Cocktail Arcade Tables are brand new, with new parts, new technology, new everything. These are not rebuilds or re-condition units. This is constructed with the highest quality materials, nothing has been left out, experience the real feel of the arcades at home.
All your top classic games from the 1980's like Pac-man, galaga, Donkey Kong, dig dug, Mrs Pac-man, and more. Set up for free play or coin operation. All games are completely new, commercial grade, and have a joystick on both sides for head to head play. It has tempered Glass with commercial grade buttons and joysticks. The graphics under glass is printed on thick waterproof plastic. Cabinets are built using thermally sealed melamine moisture resistant wood. Also this Cocktail Arcade Table has two benches.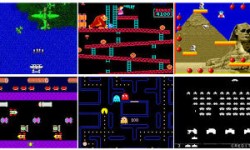 The list of the games that you can play on this Cocktail Arcade Table are:
Ms Pacman, Galaga, Frogger, Donkey Kong, Donkey Kong junior, Donkey Kong 3, Galaxian, Dig Dug, Crush Roller, Mr Do, Space invaders, Pacman, Galaga 3, Gyruss, Tank Battalion, 1942, Lady Bug, Burger Time, Mappy, Centipede, Millipede, Jr Pacman, Pengo, Phoenix, Time Pilot, Super Cobra, Hustler, Space Panic, Super Breakout, New Rally x, Akanoid, Qix, Juno First, Xeviuos, Mr Do's Castle, Moon cresta, Pinball Action, Scramble, Super Pacman, Bomb Jack, Shao-lin's Road, King & Balloon, 1943, Van-Van Car, Pacman Plus, Dig Dug, Dig Dug 2, Amidar, Zaxxon, Pooyan, Pleiads, Gun Smoke, The End, 1943 Kai, Congo Bongo, Jumping Jack.
The 60 Games In 1 Cocktail Arcade Table is great for home entertainment, bars, cafes, office break rooms, and many other places. This is the head to head machine you've always wanted.