Find special offer on braun thermoscan lens filters. Braun Thermoscan Lens Filters need to be replaced after every reading to ensure hygienic and accurate results. Simply slip the lens filter over the end of your Braun Thermoscan Thermometer. There are 40 disposable lens filters in the package.
See below steps to use the lens filter:
Step 1: place a new lens cover on the thermometer tip before each measurement.
Step 2: measure temperature with lens cover fitted on thermometer tip.
Step 3: throw away the used lens filter after each measurement. Eject it by pressing on the button below the thermometer tip.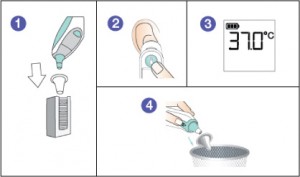 Description – features:
Plastic
Lens filters are designed for use with the Braun Ear Thermometer with ExactTemp technology.
Insures the accuracy of the IRT4520 and IRT3020
Minimizes spread of Germs