In today's digital era man is searching daily for solutions that will make our lives simpler and easier. The FXGear company, pioneer in the field of computer graphics and virtual reality technology since 2004, has managed to build a digital mirror that allows us to try out clothes very quickly, and it is certainly something that every fashion shoppers all over the world will love.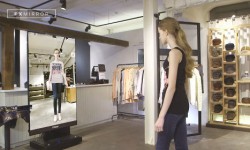 FXMirror is a digital mirror with cutting edge technology, which gives us the ability to stand in front of it, and with a simple scan to find our body's size so as to adjust the size of the clothes we will try, in our body type. This timesaving solution helps us to choose clothes even when we have been late to a business meeting, in the morning for work, or in any other circumstances.
To use the mirror you must first sign up from mobile website and then log in. Then the mirror scans your body in less than 2 seconds and records your dimensions. Now all you have to do is to start trying out clothes by just using your hands, so as to find what you want, to compare it with others, and also buy what you like.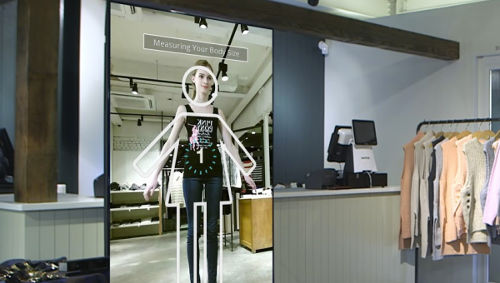 The FXMirror offers many benefits for shoppers and retailers. Shoppers can try on clothes virtually without the hassle of getting in and out of clothes and compare themselves in different clothes. It gives recommendation of related items. Also, they can save the clothes they want in the wish list for later and they can buy them before or after business hours. The retailers can gather crucial data about their customers' preferences and shopping behavior. Attract customers and display ads 24/7.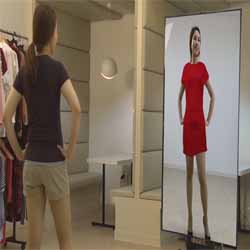 FXMirror is an augmented-reality fitting room solution that offers convenience to shoppers and customer data to retailers. Furthermore, you can use an avatar virtual fitting module for internet shopping malls, and an administration panel accessible from web and mobile devices.