The Duet Multitouch Coffee Table brings a refreshing new take on the touch interactive tables, because it has both Android and Windows 8 installed on-board. You can easily switch between the two operating systems, and the hardware itself is pretty rugged. The smart table contains two independent computer systems that run simultaneously, one for each of the platforms. It's available in 42 and 46 inches.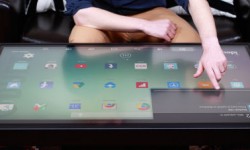 The Duet is the hub of the connected home, with PC and Android options allowing users to control devices from one centralized location. The Duet coffee table takes advantage of the surge in popularity for home and business based technology. With no wires to trip you up, this smart coffee table is Wi-Fi- and Bluetooth-enabled, with an attractive look-and-feel that ensures a superior experience.
The panel is chemically strengthened, features an anti-glare coating, and can detect up to 60 simultaneous touch points when using Windows, and up to 12 when running Android. The table is built from a combination of aircraft-grade aluminum and cold-rolled steel, and is designed and constructed in the US. Included is an Intel Edison mini-computer on board, programmed to facilitate fast switching between the two operating systems.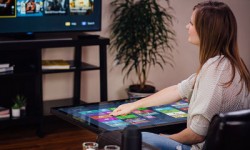 The Duet Multitouch Coffee Table seamlessly combines Android 4.4 KitKat and Windows 8 so you can do more even when you're lounging on the living room sofa. Each OS is run by two independent computer systems, blended together by an Intel Edison mini-computer to allow problem-free switching between platforms.The 42-inch variant of the table has 3.2 GHz Intel Core i5-4570R processor with integrated Iris Pro Graphics 5200, 8GB RAM and 256GB SSD storage. While the 46-inch model comes with 3.5 GHz Intel Core 17-4710Q chip, Nvidia GeForce GTX 760 graphics card, 16GB memory and 512GB SSD storage.
The company believes that the Duet's versatile nature and durable construction makes it well suited to public spaces such as museums, schools, universities, as well as in retail and hospitality settings. That said, Ideum also envisages the Duet as the perfect hub in the home, tying in with existing smart home products by utilizing its Wi-Fi and Bluetooth connectivity and existing suite of Android apps.