Cardok came up with a good idea to save space in your driveway if you need it. They put an electronic elevator for your car in your driveway to take you to your underground garage. How cool is that? Everyone has problems when it comes to parking places. Cardok Double Parking Space is the underground parking solution which allows you to double your parking space.
Cardok Double Parking Space is an underground parking solution designed to double your parking space. Not only that, but with Cardok you'll also have greater security even than in a locked garage. Cardok's creators claim it offers greater security than a conventional garage because virtually impregnable in the lowered position, the unit sits flush on the ground, while a solid metal lid prevents undesired access and, of course, maximum discretion. You have two options, Cardok Mono and Cardok Multi for larger parking space.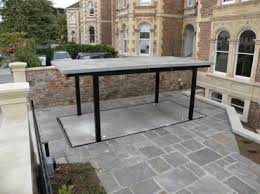 Cardok Mono basically consists of a lift that can be accessed by simply holding down a button on the remote. This will cause four hydraulic actuators to raise up a portion of your driveway and to reveal a hidden parking spot. The system consists of a lift which can be accessed by pushing a button on a remote. That causes 4 hydraulic actuators to raise up a part of your driveway, revealing a hidden park spot. Simply place your car on that portion and use the remote to lower the platform. Your car will be safely placed underground and the driveway will look exactly as it did before. Moreover, since the original parking space is still free, a second car can be parked on it. And if you need the one parked underground, simply raise the platform, get it out while the other car is still on top of the platform, and then lower it as if nothing happened.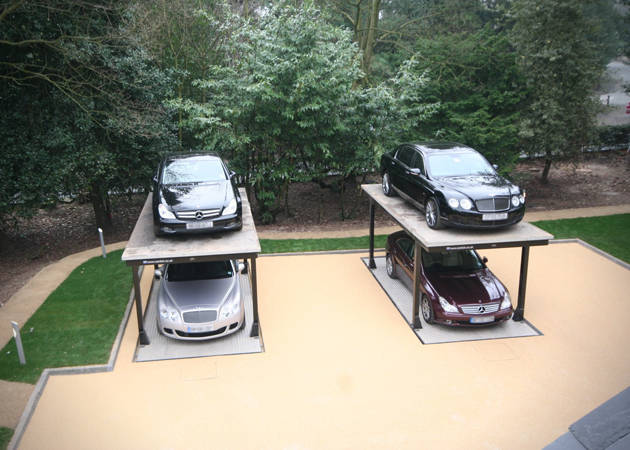 Cardok Multi uses the same concept but it doubles the width or length of the parking space. It offers 2 independently functioning Cardoks. This version was developed to meet the increased demand for a larger solution. Their double-length, double-width or double-height platform can accommodate up to four cars.
All the products offered by Cardok are built to order and they can be made to virtually any specifications.