The BioLite CampStove generates usable electricity for charging LED lights, mobile phones, and other personal devices. It can cleanly cook with wood while charging your gadgets. A cross between a backpacking stove and an off-grid power charger, this innovative stove lets you cook your food and charge your gadgets with nothing more than the twigs you collect around your camp.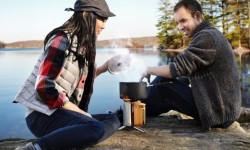 Burning only wood, the BioLite CampStove creates a smokeless campfire that can cook meals and boil water in minutes. Setup is easy, fuel is free, and flames are hyperefficient with performance on par with white gas stoves. This device works on renewable biomass and has an output of 2W – 5V, up to 4W – 5V on it's peak. During full power the Biolite Wood Burning Campstove will boil 1 liter of water in 4.5 minutes and will give your phone 60 minutes of talk time (iPhone) with 20 minutes of charging at this full fire level.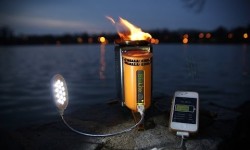 Basically, a thermoelectric generator captures energy from the flames, powering a fan that feeds the fire more air in order to improve combustion. BioLite's patented core technology captures waste heat from the fire through a heat probe attached to the orange powerpack. Heat is converted into usable electricity via a thermoelectric generator. This powers a fan and sends surplus electricity to a USB charging port. The internal fan forces air back into the burn chamber dramatically improving combustion and creating a cleaner, more efficient burn. The CampStove is designed to burn small, easily gathered biomass like twigs, pinecones and the like without creating much smoke and with a powerful enough flame that it can quickly boil water.
The BioLite Campstove is a cool multifunctional device designed to help campers cook a quick meal and charge their electronic devices.